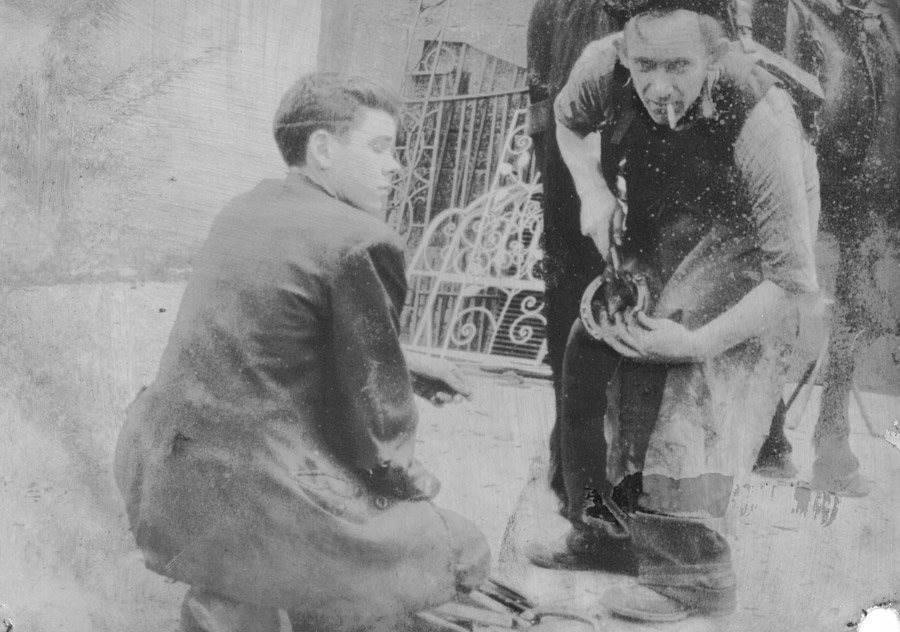 In or about 1945 Paddy Mullane came to work at the local forge in Croom Co. Limerick. When the blacksmith in Adare retired about two years later he took over the lovely cut stone forge with its horseshoe doorway located on the side of the street in Adare Co. Limerick.
Paddy was born in Cork and started his apprenticeship there at 14 years of age so by the time he came to Adare he was well versed in all aspects of the trade and quickly made a name for himself in the locality, from shoeing horses to producing wrought iron gates, railings and garden furniture.
The business outgrew the quaint forge and in 1965 he moved into a purpose built workshop on Station Road Adare and opened Adare Iron Works. The company continues to produce high quality wrought iron and mild steel products including an extensive range of decorative gates and railings, all types of long lasting durable outdoor garden furniture and flower stands, freestanding and wall mounted lanterns and any wrought iron or mild steel product that a costumer might require.
A shot blasting and hot zinc coating facility was installed in the early 70s. The shot blasting cabinet is 8m x 3.5m x 3m and is manually operated to insure that every surface is blasted to SA 2.5. After blasting a number of finishes can be applied such as a clear coat of varnish or a primed and painted finish for indoor products or a hot dip galvanized and painted finish for outdoor products. We can also zinc coat any product with our electric arc twin wire metal spraying system. This is ideal for weather protection of any products that cannot be hot dip galvanized such as cast iron or delicate items.
Over the years we have gained vast experience in our field and offer a wide range of products to the householder in wrought iron or mild steel such as:
Decorative gates, normal swinging or sliding
Decorative wrought iron railings
Decorative wrought iron stairs and panels,
Decorative wrought iron spiral stairs,
Wrought iron balconies,
Wrought iron garden furniture, flower stands and arches,
Wrought iron lanterns,
Wrought iron wine racks,
Wrought iron curtain rails,
Balustrades of all types including frameless glass or a combination of mild or stainless steel and glass.
We also do a lot of restoration work on old items such as gates and railings, cast iron fireplaces and old farm machinery.
On the commercial side we manufacture and install:
Fire or access stairs and platforms
Cat ladders,
Commercial gates and railings,
Cantilever sliding gates, (no ground track)
All types of guardrail.
Stainless steel balustrades and handrails, with glass panels.
We have a lot of experience in working with perforated metal of all types including mild steel, stainless steel and aluminium.
Frameless glass balustrades, compound or mechanically fixed.
Security doors.
Window guards.
Height restriction barriers.
Adare Iron Works is very much a family run company giving each valued costumer the time and benefit of our experience in helping them in the design of any project that they present to us. We will gladly provide a cost for any enquiry regardless of the size.